Centrifuge Extractor – Motorised Operated-VSLIC4014
Brand:
IS Standard : ASTM D2172, AASHTO T-58, T-164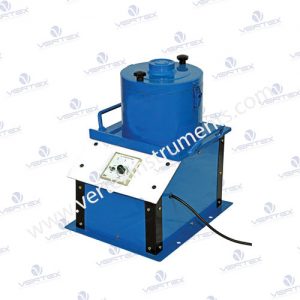 Product Introduction
The Bitumen/Centrifuge Extractors are used for determination of bitumen percentage in hot-mixed paving mixtures and pavement samples. The mix is added with a solvent and dissolved bitumen is removed by centrifugal action. The Extractors are available in two versions, Hand operated and motorised electrically driven.
Product General Description & Specification
Hand driven
The Bitumen/Centrifuge Extractor comprises of a precision machine rotor bowl and bowl cover housed in a cylindrical aluminum box. A knurled nut is provided to press filter paper disc between the rotor bowl and cover plate and the complete bowl assembly is removable for determination of weight of sample. The bowl assembly is mounted on a vertical shaft, which comes out from a casted housing. The shaft attached to the bowl is rotated manually by a handle. The gears operate in a casted housing in oil bath with splash lubrication. A drain is provided to collect dissolved bitumen coming out from the rotating bowl.
The range of speed is 2400 – 3600 RPM. The bowl capacity is 1.5 Liter
Motorised Electrically Driven
The motorised version is provided with a variable speed control device and a hand brake to stop rotation when switched off. The electric motor is of 0.25 HP capacity coupled to a geared assembly. Suitable for operation on 230 Volts, 50 Hz, AC single phase.
Recommended Accessories & Consumables
The following accessories and consumables are not part of the standard supply and are mandatory for the testing work
Used for determination and checking of bitumen percentage in bituminous mix
Consists of a removable aluminum rotor bowl, capacity 1500 gms.
This shaft and bowl is rotated by an electric motor and gear
The solvent is introduced during the test through the holes in the cap of the housing.
A drain is provided to collect dissolved bitumen coming out of the rotating bowl and getting collected in the housing.
Operates on 230 Volts A.C. single phase. Accessories
Accessories:
1. Filter paper disc (packet of 100nos.)

2. Benzene
Centrifuge Extractor - Motorised Operated
Suitable for operation on 230 V, 50 Hz, Single Phase, A.C. supply.