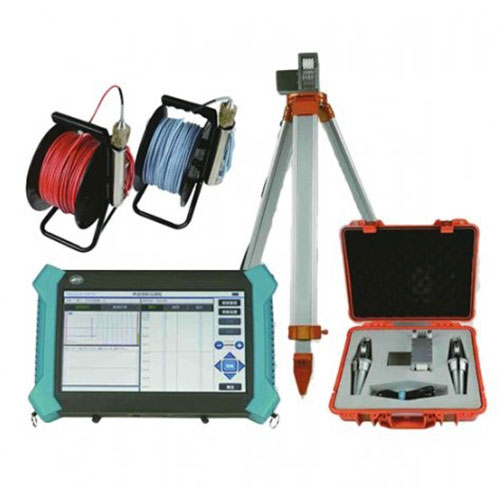 [xyz-ips snippet="IS-Standard"]
A non-metallic ultrasonic detector, the integrity of foundation piles and diaphragm walls can be rapidly and continuously detected by the ultrasonic transmission method. Compressive strength, crack depth, crack width and defect detection of structural concrete, it integrates five functions of pile testing, ultrasonic rebound comprehensive method for strength measurement, defect measurement, crack sounding and width measurement. Geological exploration, rock integrity, weathering evaluation, and testing; single-hole one-shot dual-collection logging; mechanical properties testing of non-metallic materials such as rock mass, concrete and so on.
Product Features:
New upgraded wireless cloud transfer function.
It integrates five functions of pile, strength measurement, defect measurement, sounding and width measurement.
Stable performance and high cost performance are the best choice for users with diverse needs such as teaching and research.
Semi-transparent, high-brightness, TFT color LCD screen.
Full touch screen operation, simple and convenient, stable and reliable.
Large memory capacity and working time of more than 10 hours.
It can double-receive, automatically collect and automatically record the height and sound waveform to improve work efficiency.
The original measuring point waveform can be played back, covered and deleted at will.
It can be connected with digital rebound hammer probe for ultrasonic rebound comprehensive method.
U disk dump data, support software upgrade through U disk.
Dedicated analysis software is powerful, data analysis and processing, report generation, and printing reports are easily completed.