Consolidation Test Apparatus- Three Gang-
Brand:
IS Standard :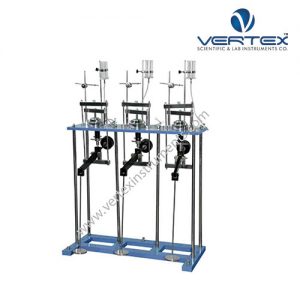 Consolidation of clay deposit leads to distress in buildings such as cracks and failures. Consolidation is a reduction of the volume of soil due to the expulsion of water from its pore space caused by sustained loading. This phenomenon is time dependent. The one-dimensional consolidation test performed on an undisturbed sample of clay is useful for understanding the history of the soil deposit. The test results can be used for calculating the settlement of structures built on clayey soil.
Consist of Loading Unit, maximum capacity 20 kg/cm 2 consisting of a loading yoke connected to a lever arm with a counter- balancing adjustment and having a lever ratio of 1:10, the whole assembly being mounted on a steel frame stand.
Consolidation cell assembly, fixed ring type for testing 60 mm dia x 20 mm thick specimens comprising:
Consolidation Apparatus Different Models Availables.